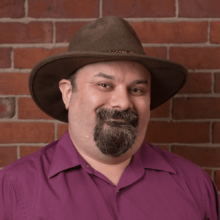 Benjamin Santos
2018 40 Under 40 Honoree
Creative Geniuses
Co-founder
Tea & Lobster Productions
As co-founder of Tea & Lobster Productions, Benjamin Santos focuses on networking and promotions. Whether it is promoting events like The Great Falls Comic Expo or contributing as a member of Uplift LA, he says, "Making people aware of the amazing opportunities in the Lewiston Auburn region is key."
Never quite sure what to answer when asked what he wanted to be when he grew up, Ben has found the way to keep the kid alive in his professional career. Running conventions came from attending many through his website, Cosplay Convention Center and he is grateful for the community support he has received for producing two comic expos locally.
Ben notes, "I've lived here or around here my whole life. I like the area, the people, the history. Being here over that much time I've also seen opportunities pass us by or not even be considered for the area. So I decided to be a piece of the change I wanted to see." He enjoys the resolve of LA residents and says, "LA's strength has always been from the people that make up our diverse community. I enjoy their innovations, commitment to their history, and their openness to support and encourage their neighbors."
He sees improving cyber infrastructure as a key issue in order to attract larger companies as well as start-up companies as they expand and to provide the backbone for the up and coming company we haven't heard of yet.
When Ben isn't riding Optimus you can find him at Simone's or Forage Market or playing games at one of the local gaming shops.