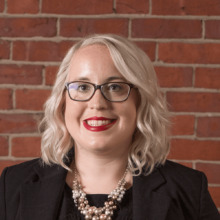 Kristine Kittridge
2018 40 Under 40 Honoree
Volunteers
Clinical Dietitian
St. Mary's Hospital for Metz Culinary Management
As Clinical Dietitian with Metz Culinary Management, Kristine Kittridge works with St. Mary's patients to assess their nutritional status and needs, provide education, and facilitate interventions to help them recover. She also teaches group classes and offers wellness presentations.
Kristine looked for a job specifically in this area so she could move to LA for the great energy around creating a positive future for the community. She also thought it was ideally central to the ocean, mountains, the river, and Portland with both urban and rural environments. She says, "Once I moved here, I got connected by getting involved in a variety of ways, started exploring the city, and showing up to events and meeting people. Now I can't imagine living anywhere else!"
When Kristine is not training for a triathlon or a running race, she is trying new restaurants and new recipes, and seeing live music as often as she can. She notes, "Volunteering my time for organizations and causes that are important to me is also something I love spending my time doing." Her current passion is the mission of the YWCA to: to eliminate racism by empowering women and girls. She has been on the board of the YWCA for three years and is currently the board president. She is also a member of the Lewiston Planning Board and the Lewiston Area Public Health Committee. Kristine's call to action for the community is to, "Work on racism and other forms of oppression, by making sure that all feel welcome, safe and supported."
Follow Kristine to find great vegetarian food at Mother India, She Doesn't Like Guthrie's, Ben's Burritos, and Forage Market.