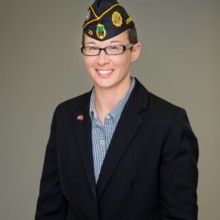 Alley Smith
2016 40 Under 40 Honoree
Local Heroes
State of Maine Regional Manager
Veterans Inc.
Alley began her career in veterans' advocacy after serving ten years' active duty in the military, which service included being deployed to combat in Afghanistan. Her love for working with the service members and their families led her to her current position at Veterans, Inc., an organization dedicated to ending homelessness among veterans. At Veterans, Inc., Alley is responsible for grant programs like "Supportive Services for Military Veterans and their Families" and the "Homeless Veteran Reintegration Program." She also supervises the day-to-day operations and works together with her incredible team to assist homeless, at-risk and transitioning veterans with housing, employment, training and benefits assistance. As a Marine, Alley was taught to know her fellow Marines and to look out for their welfare. Her work with Veterans, Inc. is her way of maintaining that spirit as a civilian.
Apart from her work with Veterans, Inc., Alley gives back to her community through her work with the Maine Military & Community Network Regional Committee, Healthy Androscoggin, Catholic Charities of Maine's Path Program and the Lewiston Career Center, among others. She also volunteers her time to local food pantries and churches, and is part of both the American Legion and Maine Army National Guard as a Chaplain and Chaplain's Assistant, respectively. Causes she is most passionate about include AmeriCorps, Community Anti-Drug Coalitions of America, IAVA: Iraq and Afghanistan Veterans of America, Maine Team RWB, Internity, and Sexual Assault Prevention & Response Services. In her free time, Alley likes to stop at Guthrie's and Pop Shoppe Diner for a good bite to eat. She is a big fan of staying active, often working out at Orange Circuit Fitness or going for a run at Thorncraig Bird Sanctuary.
In the future, Alley sees herself continuing her work with Veterans, Inc. and completing her Master's Degree in Biblical Counseling. In ten years, she hopes to retire from the military reserve. She believes the greatest challenge facing the L/A community today is the need to build resilience. To Alley, this challenge can be overcome by boosting personal accountability and responsibility, positive mentoring and role modeling, peer to peer support and individual enthusiasm.