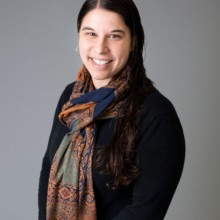 Julia Sleeper
2016 40 Under 40 Honoree
Local Heroes
Executive Director
Tree Street Youth
Julia found her passion working with Lewiston's youth population while she was an undergraduate at Bates College. She fell in love with the L/A community and decided to stay in Lewiston after graduation to continue her work with L/A youth by cultivating opportunities through the development and creation of the Tree Street Youth Center. As Executive Director, she oversees the daily operations of Tree Street, supervises its staff, collaborates with the board of directors and maintains the ever-growing vision of the agency. Her favorite thing about her work with Tree Street is seeing local youth and their families challenging themselves to try new things. To Julia, it is a privilege to witness these powerful moments.
Some of the projects Julia is involved in through Tree Street include the "StreetLeaders" program, through which high-achieving L/A high school students serve as role models and tutors for younger children, and the "B.R.A.N.C.H.E.S." program that focuses on increasing overall graduation, college acceptance and college retention rates for at-risk youth in L/A. Tree Street further offers after school programs and summer youth programming, as well as arts and athletics.
Julia is highly motivated by the L/A youth population and finds their energy, pride, and drive to lead improvement efforts in their community to be "very unique and powerful." She is passionate about all the L/A area agencies that work so hard to support our youth and families in need. She is proud to be a part of the "huge web of support" these agencies provide. For Julia, the greatest challenge facing L/A today is the need for its citizens to come together and cross all lines drawn by their differences. With time, patience, and a collective willingness to learn, listen and keep an open mind, she believes this challenge can be overcome.
In her free time, Julia is happy to stay home and watch a movie, enjoy the outdoors by camping or going for a hike, and engaging in the various fun activities L/A has to offer with her family. For a bite to eat, Julia favors many of the delicious restaurants that downtown Lewiston has to offer. She has a special interest in supporting local youth sports programs, particularly the teams her children play for. Julia plans to continue raising her family in L/A while working to make The Tree Street Youth Center even greater and more sustainable.