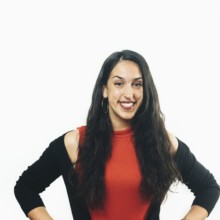 Alli Nolan
2017 40 Under 40 Honoree
Education
BRANCHES Program Manager
Tree Street Youth
With solid roots and nourishment, trees grow branches and thrive. The analogy applies well to the work done by Alli Nolan.
"I am the BRANCHES Program Manager at Tree Street Youth. Through the BRANCHES (Becoming Responsible Adults 'N Cultivating Higher Education Success) Program, I work with youth of all ages to guide students through the steps to exploring, discovering, and achieving their future goals," said Nolan. "By offering homework help and tutoring, college prep for the seniors, and a variety of early college exploration and career readiness programming, we are working to increase the overall graduation, college acceptance, and college retention rates of first-generation students in LA."
Nolan explains that her job is a wonderful mix between directly serving the vibrant kids who attend the youth center and doing bigger picture visioning for the direction of the program by evaluating programming and establishing partnerships with colleges, schools, and other organizations around the state.
"I also work with all of the deeply inspiring students at the Wayfinder School, an alternative residential school located in New Gloucester, Maine, where I help students develop their post-grad plans," said Nolan. "Each day is so dynamic and different—and oftentimes just a little bit crazy —and it keeps me forever on my toes and continuously learning from our students and the rest of the staff at Tree Street Youth."
Nolan graduated from Colby College in 2014 and moved to Lewiston to begin working at Tree Street.
"I have stayed here because of the wonderful friends and community."