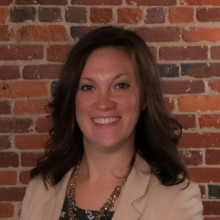 Alyson Daniels
2020 40 Under 40 Honoree
Education
Events Coordinator
Central Maine Community College
Alyson Daniels has a passion for planning and executing events. A twist of fate in her career brought her to the profession.
"After getting my bachelor's and master's degree in business administration, I still didn't know what I wanted to do as a long-term career. I had worked as a banquet server for hotel events and I knew that I liked planning and organizing so I thought maybe I should continue down this path and work towards being an event coordinator," said Alyson. "Thanks to my boyfriend at the time, now my husband, I had the opportunity to work in event operations at a historic hotel in the Upper Peninsula in Michigan and at a luxury catering facility in Long Island, New York. I learned so much in both places and I discovered my passions and strengths in event planning."
Currently, she is the events coordinator at Central Maine Community College where she is responsible for organizing and executing all events.
Away from work, she is closely tied with the Dempsey Center.
"For six years, my husband and I have been a part of the local organizing committee for the Dempsey Challenge. While it's always been about raising money so that families and patients can get important services for free, the cause hits close to home as my mother-in-law was diagnosed with breast cancer and utilized the services that the Dempsey Center offers," said Alyson. "More than ever, it's about those of us that 'can do' giving back to those who 'can't do' and making their lives better."