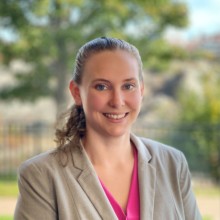 Amy Griswold
2021 Finest Under 40 Awardee
Emerging Leaders
Owner + CFO
Lucro Management
Amy Griswold has had a vibrant career in the hospitality industry.
While spending the better part of a decade as office manager at the Hilton Garden Inn, she was responsible for the recruitment, onboarding and retention of employees. She encouraged employees to engage deeper in the fabric of the community, often creating opportunities for volunteering at the Good Shepherd Food Bank, Bowl for Kids' Sake or Habitat for Humanity.
In September of 2019 while working at the Hilton, Amy co-founded and became CFO of Lucro Management, a third-party hotel management company operating out of Auburn. Never much of a risk taker, she made a bold move and left the comfort of her salaried position in exchange for an opportunity she created for herself in January of 2020. By using the education she earned at Endicott College's School of Hospitality including the completion of an advance track MBA program, she built a business that was profitable in its first year of operation.
Despite the setbacks from COVID-19 and its impacts at the time, Amy recognized the need to give back to the community. She helped launch a scholarship in collaboration with HospitalityME, a "Bridge the Gap" $1K Scholarship for Women in hospitality, in recognition of the importance of ongoing education and the need for more women to join the industry in leadership roles.
In addition to running these successful businesses, Amy runs a household alongside her husband which includes three young kids, while juggling the challenges of childcare, school closures and remote learning.
Her foodie fix favorites include DaVinci's, Fishbones, and 84 Court Street.