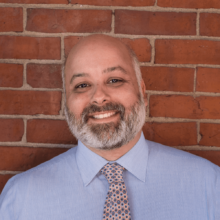 Andrew Bard
2018 40 Under 40 Honoree
Education
Principal
Washburn Elementary at Auburn School Department
Lewiston native Andrew Bard knew he wanted to be a teacher when he was in the 4th grade. Now principal of Washburn School in Auburn, he strives to be a role model to students and maintain a climate and culture that promotes lifelong learning. Leading 45 staff members and 268 students, he says, "I drank the administrator Kool-aid and love my job, my school and my students." Favorite parts of his day include seeing the students smile as they walk through the door, helping students and staff make positive choices and working with everyone to see the direction the school needs to go.
Andrew sees many advantages of living and working in the LA area and believes it is, "Important to give back to the community that gave you your start and provided me an education." He is passionate about school partnerships and has built strong connections with Community Credit Union, the local Elks Lodge, Horace Mann Insurance and the Lewiston Auburn Rotary Lunch Club. His work brings into focus the community's changing diversity that extends beyond Washburn's walls and he suggests, "Keeping communication open and having community events that promote inclusion and tolerance."
Andrew recently applied for the Doctoral program at the University of New England, so he envisions teaching at the college level some day. Until then, find Andrew spending time with family and friends, cooking, visiting local restaurants, and enjoying the LA area year-round.