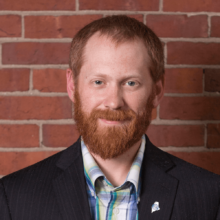 Zack Pettengill
2018 40 Under 40 Honoree
Local Government & Civic Leaders
Owner + School Manager
Pettengill Academy
Zack Pettengill co-owns Pettengill Academy with his wife where he says, "I do a little bit of everything from payroll and covering in classrooms to janitorial and some light repair work." The favorite part of his career is the impact the school has on the students' lives as they grow from infants to school agers.
Zack also serves on the Lewiston City Council and tries, in his words, "To be an outspoken advocate for moving the city away from the 'it's always been done this way' attitude." He says, "I think the largest challenge facing the area is our perception of ourselves and how we take that next step. We've been ready to grow for so long now but we haven't had a cohesive vision on what that looks like and it's holding us back to the point now that it hinders.. .And art is a fantastic way to start!"
Born and raised in Lewiston, Zack says, "I love Lewiston! From bringing my family to Simard Payne Park or taking the dog for a walk on the Bates campus and the river walk. I also love the newest addition in the mural downtown."
Free time sees him as a, "dance dad, baseball dad, and softball dad." Zack adds, If I can read a good book or hang out at the beach with my kids and wife I'm pretty happy." You can also find Zack out at Fishbones, Pinky D's, Forage, Gritty's, House of Bacon, Pedro O'Hara's, Mac's Grill, Gipper's, or Rolly's. His future holds managing multiple locations for Pettengill Academy and continuing his political work locally.