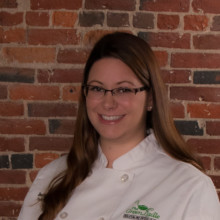 Becca Levesque
2020 40 Under 40 Honoree
Education
Pastry Instructor at The Green Ladle
Lewiston Regional Technical Center of Lewiston Public Schools
Baker
Levesque's Organic Farm
Becca Levesque became interested in culinary arts at the same place where she teaches other students today.
"I was a student at The Green Ladle (at the Lewiston Regional Technical Center) and developed a passion for baking and the culinary field. I went on to earn a bachelor's degree in baking and pastry arts management at The Culinary Institute of America. When the opportunity came to teach, it was a dream come true. Getting to work at The Green Ladle and see students gain confidence in the kitchen has been the highlight of my career."
She is supportive of community events such as the Dempsey Challenge (helping prepare breads, pastries and breakfast for over 3,000 guests) and the Chili Chowder Challenge (preparing over 800 pastries).
As a nominator said, "Her dedication to inspire and lead her students to become professionals in the culinary arts industry is admirable."
When the school year ends, she does all the baking during the summer for her family's farm stand in Leeds where she keeps them stocked with fruit pies, cookies, bars, whoopie pies, and cakes.
A native of Poland, Maine, she believes that the Lewiston Auburn Metropolitan Area has been making great progress to grow and build a community.
"I think one of the biggest challenges is supporting our small businesses so they can thrive and provide jobs and services for the community. Choosing to shop local, whenever possible, is the best way to help."