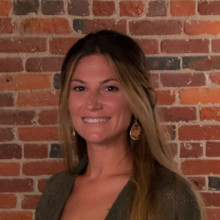 Shayli M. Huston
2020 40 Under 40 Honoree
Entrepreneurs
REALTOR®
Realty One Group - Compass
Shayli Huston makes a difference by selling one house at a time.
"I grew up in the Lewiston Auburn area my whole life and I stayed local because that's what I'm familiar with. I hope to branch out at some point too. I genuinely enjoy the way our community comes together in times of need."
Shayli admits that a career in realty simply popped in her head one day.
"I honestly felt I needed change. I thought of options of taking the leap and just went for real estate out of the blue. It turned out being the best thing for me."
In her free time, she says she enjoys cleaning her house.
"As weird as it sounds, I enjoy cleaning because I feel at peace when my house is clean. It also allows me time for being out in nature with my family."
In her ten-year plan she says, "I would like to see myself sitting on my porch at my modern built farmhouse, watching the sunset with my dream car in the driveway. I see my husband by my side and my kids healthy. Of course, I see myself being highly successful in real estate."
As for challenges she sees in the community, Shayli would like to see less use of technology for youngsters.
"To overcome this, let's try to set time limits. I know that technology can be great, and kids are learning a lot from it, but it is not only affecting their brains, but their bodies as well. Let's keep these kids smart, healthy and active."