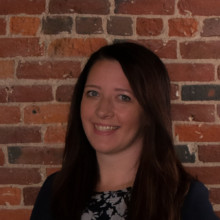 Stefaney Goupille
2020 40 Under 40 Honoree
Volunteers
Care Coordinator Manager
Grand Rounds
Stefaney Goupille makes a difference in healthcare for many people across the country.
From a nominator, "Stefaney currently works at Grand Rounds as a care coordinator manager. Stefaney is a source of enthusiastic support, energy, guidance and good humor to her team. She connects, listens, and responds with tangible action steps and clearly wants to help others grow and be successful. Through her work she and her colleagues are providing an important service by helping people access higher quality health care."
"Currently I have the privilege of leading a team of 15 amazing employees. Half of my team is responsible for servicing health navigation needs for patients and the other half are claims support specialists who excel at advocacy. I am additionally honored to be the liaison for customer success on our largest account and the care team. Daily I wear many hats, but the mission is always the same, to ensure a positive impact is had by patients through accessible quality care.
About the LA area, Stefaney says, "I think one of the biggest challenges we face is our ability to keep our talented youth in this area. I feel a way we can do that is to reevaluate what culture means in the workplace, and to continue to develop the area as a place of opportunity. We should continue to look at ways to draw in businesses to the area that foster that goal. If we can start to make some culture changes in the businesses we have now and look to invite more to the area, I think this will help in keeping our talent local."