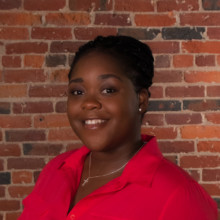 Bright Lukusa Musuamba
2020 40 Under 40 Honoree
Local Government & Civic Leaders
Diversity & Training Coordinator/Advocate
Immigrant Resource Center of Maine
Direct Support Professional
Granite Bay Care
While there is much to say about Bright Lukusa Musuamba, nothing describes her more clearly than this profound narrative from a nominator.
"I've known Bright Lukasa through my work at the St. Mary's Nutrition Center and as a fellow community member for approximately 3 years. I have always been struck by her strength of presence, warmth and natural leadership abilities. One of the most memorable moments I had with Bright was two years ago during a New Mainers Collaborative Community meeting. The discussion at the time was focusing on how to support youth in the community and minimize some of the challenges neighborhood youth were facing.
As one of the only youths of color among the meeting attendees, Bright shared her perspective with confidence and care to a room full of experienced community leaders, service providers as well as police. She was able to articulate the nuanced and challenged space in which so many young New Americans reside – straddling two worlds and two cultures; the strong desire of youth to fit into their new homeland while also pleasing their parents- who often have expectations that no longer make sense in American culture. She also shared the ways in which community policing efforts could aim to better understand youth and create authentic, safe ways to connect.
That day, at the meeting, I was both impressed and inspired by Bright's maturity, leadership potential and her commitment to a community which was still very new to her. More so I was hopeful for Lewiston, a city whose multiculturalism is one of its greatest strengths and can be what helps the city really thrive."