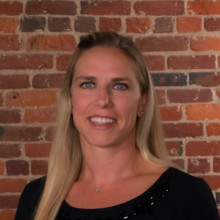 Emily Dooling Hamilton
2020 40 Under 40 Honoree
Health & Wellness
Tobacco Prevention Specialist
Healthy Androscoggin
Public health is near and dear for Emily Dooling Hamilton.
"I started my public health career almost ten years ago at Healthy Androscoggin. I have been so fortunate to have inspiring mentors and supervisors during my time here. With a master's of science in health promotion and disease prevention from Springfield College, and an undergraduate degree in kinesiology and physical education from the University of Maine-Orono, my education is efficiently utilized for success in public health."
As said by a nominator, "Emily is an enthusiastic and charismatic educational specialist in the Lewiston/Auburn area, and an exemplary representative of integrity, sympathy, and diligence to her career. She has a passion for being in the schools and businesses that operate in Androscoggin county, with the goal of helping them to design and implement a program, with relation to tobacco, and its effect on the users and their environment."
When asked about causes that she willingly supports, she enthusiastically said, "The Dempsey Center."
"I have co-facilitated a tobacco cessation class, with such devoted members of their staff for over eight years now, and I am passionate about the great work that they do in our community for folks that are impacted by cancer."
Emily has a heartfelt concern about the public health crisis that has come with COVID-19.
"As I write this in April of 2020, our nation faces an overwhelming public health crisis. Coupled with the already existing stress that comes with daily life, our world's communities must evolve. I hope that communities begin to understand the importance of utilizing healthy, productive and constructive options to manage these day-to-day adversities, without the necessity of substance abuse."