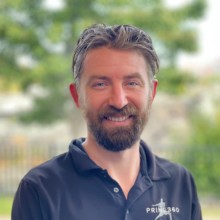 BJ Grondin
2021 Finest Under 40 Awardee
Entrepreneurs
Movement Therapist + Performance Coach
Prime360
Partner
Smooth Ride Smoothies
As a movement therapist and performance coach at Prime360, BJ Grondin helps people attain their best possible health whether working to reduce their pain, improve their ability to move, or pushing them to peak performance in athletics.
"I got started in performance coaching in college with a passion specifically in basketball. After graduating college, I moved to Texas to learn under some of the brightest minds in the industry and chase my career of being a high-level college strength coach. There, I was able to create connections and work with the highest-level athletes in the world. It was eye-opening, humbling, and exciting all at once."
Returning to Maine, he started his coaching business in Mechanic Falls, his hometown, and he eventually moved to Auburn where the business thrives and where he's made his home.
"We have really come to enjoy the community, especially in the athletic world where we tend to hang out with the coaches and athletes. We have been graciously welcomed into this area!"
From one of his clients came the following. "I came to him this past spring, after a hand surgery, and he was able to take over where the occupational therapist had finished. He has prevented me from needing a second surgery on the other hand. He has (truly) changed my life."
Plans are underway for a new training facility for his business along with a smoothie trailer called Smooth Rides Smoothies, which will introduce area residents to a new source of nutrition.
"I can't go on without putting in a plug for the smoothies at the Smooth Ride Smoothie Company."