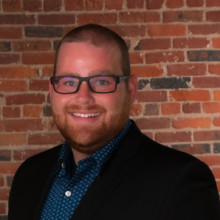 Brett Bisson
2020 40 Under 40 Honoree
Emerging Leaders
Director of Sales & Marketing
Hilton Garden Inn Auburn Riverwatch
Brett Bisson knows the hospitality business.
Starting his career in hospitality in 2015, he was hired as a part time front desk agent at the Hampton Inn by Hilton Freeport/Brunswick.
"I instantly fell in love with the 'hotel life' and have slowly worked my way up since."
Currently, Bisson is the director of sales at the Hilton Garden Inn where he has brought in record numbers in sales. He has won Manager of the Year awards as well as employee of the month multiple times. Brett is always seen helping in other departments and his presence and work ethic never goes unnoticed.
A nominator said, "He is well known for his upbeat attitude and attention to the needs and wants of guests, coworkers, and employees that allow him to be well liked and professional."
Brett is involved on the membership committee for the local chamber of commerce and is part of the Maine Motor Coach Networking organization. He keeps involved in all chamber events and likes to keep the pulse on what is happening in LA.
He is happiest when traveling and likes to attend live shows and concerts, but his heart is in LA.
"I grew up in Lewiston/Auburn and it is a special place. As much as I love to see the world, it is always nice to come home. Also, I love the city feel of L/A without having the big city congestion."
As for his vision 10 years from now, "My ultimate goal is to oversee sales and revenue for several hotel properties or to be at a large full-service resort."