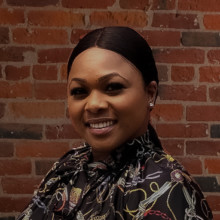 Nyada Batieste
2020 40 Under 40 Honoree
Building LA
Care Coordinator Manager
Grand Rounds
Nyada Batieste first came to Lewiston when her company relocated her to Maine.
"It was difficult leaving my family but moving here has been amazing for my career," she said.
She supports a team of 17 healthcare assistants where she is responsible for helping individuals navigate the complexities within the healthcare system. As a manager, she is responsible for not only her team's success but also their growth and development.
"I enjoy having connectedness (with the community) and the amount of pride individuals have for this area. Everyone is so willing to help one another or help you get you in contact with someone that can help if they aren't able to. This isn't something you come across in bigger cities."
She's become particularly passionate about the work at the Dempsey Center.
"It's a cause that is near and dear to my heart having lost family members to cancer. I personally know that family members need support during these times because their life can be turned upside down by the disease as well. I make sure every year I participate with the center in some type of way."
What does she see as a challenge for LA? "I think one of the biggest challenges is just bridging some of the gaps between black and brown communities locally. To overcome these gaps, we need to foster more learning about these communities and create opportunities around open conversations about race relations."