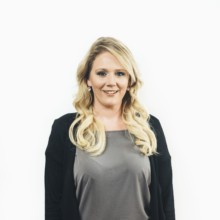 Christine Laliberte
2017 40 Under 40 Honoree
Entrepreneurs
Owner/Cosmetologist
The Beauty Bar Salon & Spa
Born and raised in Lewiston, Christine Laliberte has created her own self-employment success.
"I was a young mom wanting to be home with my children so I opened my first business as a daycare provider. When my children were in school full time I decided to obtain my cosmetology license, since that was my true passion," said Laliberte. "Over the last few years, my salon has grown from two employees to 19. I love building people up and watching them grow and succeed. It's really what keeps me motivated."
Laliberte prefers not to call her work a job. "It's a passion. I never feel like I work."
She always had strong support in her business venture. "Our staff are some of the most amazing individuals I've ever met. The support we get from local clients is amazing. I'm truly so grateful for them."
Away from her salon, she's passionate about causes that help children, mental health, the homeless and animals. She's proud to have helped raise funds for the Maine Children's Home for Little Wanderers, Untold Strength, Safe Voice, and the Greater Androscoggin Humane Society.
In her free time, she loves to travel and going to the ocean. She spends her time involved with music, studying fashion, hair and makeup and she really enjoys cooking.
Her favorite eating spots, in no particular order, are Jasmine's Café, Marché, Fuel, FishBones and Simone's Hot Dogs.
And where would she like to see herself in 10 years. "Satisfied," is her brief answer.