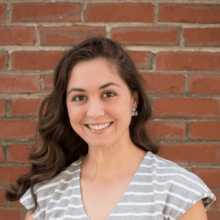 Corrie Bernatchez
2018 40 Under 40 Honoree
Entrepreneurs
Owner
Top It Frozen Dessert Bar
Corrie Bernatchez helped her mom open her own chocolate shop in 2010. Three years later while on vacation she visited a frozen yogurt shop that also sold desserts. From that visit her shop, Top It Frozen Dessert Bar was born. One of her favorite parts of the business is seeing the expressions kids have when they come in for the first time and realize they get to make their own sundae. Corrie has also added a mobile cart that she hopes to develop as a larger part of her business in the future.
Corrie takes on many rolls at her company from greeting customers, ordering, social media promotion and event coordination. Corrie notes, "Researching is also a big part of my job, we are constantly searching for new flavors, new ideas, and new products." She is a strong believer in the shop small movement and says, "Purchasing local and frequenting family run establishments is an important step in keeping our community running strong."
Corrie credits her parents for her return to LA after college. She says, "I always knew I'd find my way back here." Top It is not Corrie's only job. She also works as an Ed Tech at Sandcastle Clinical and Educational Services in Lewiston. She originally went to school for psychology with a concentration in child and adolescent development and working with kids is still very near and dear to her heart.
When she isn't traveling to reach her goal of seeing all 50 states before she turns 50, find Corrie at the Great Falls Balloon Festival, Jasmine Cafe, Gippers, Mac's Grill, 84 Court, and The BBQ Pit.