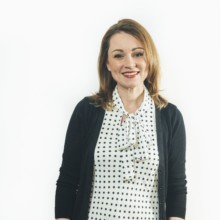 Danielle Eaton
2017 40 Under 40 Honoree
Creative Geniuses
Marketing & Public Relations Business Partner for Clinical Lines of Service
Spectrum Healthcare Partner
Whether performing in the theatre or working in public relations, Danielle Eaton feels at home being center stage.
"I started performing at L/A Community Little Theatre at 9 years old when my parents became exhausted by my nightly post-dinner song and dance routines. They saw an ad in the paper for auditions for the musical, Oliver and they dragged me down to the theatre," said Eaton, who performed CLT's 2016 production of All That Jazz. "Being a painfully shy and quiet child, my mother had to pry me from her leg and push me out onto that stage. But once I found the thrill of performing, I've been addicted ever since."
Eaton continues to perform at CLT, as well as with Out of the Box Theater, Lyric Music Theater and at the Thread Theater once a month at the Franco Center.
"I grew up in LA going to school at Holy Cross and St. Dom's. I moved to the city to earn my degree at Suffolk University in Boston. I always said I wanted to be in a place where there were more people than pine trees," said Eaton.
After meeting her future husband while still in school, she moved back home. "We've now built our dream home, out in the woods, surrounded by many pine trees."
As for social life in LA, she said, "I cringe whenever someone complains that there's nothing to do here because if you look, you'll find more than you know what to do with."