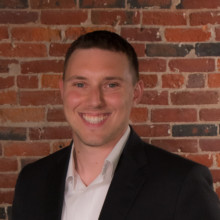 Dave Perlman
2020 40 Under 40 Honoree
Creative Geniuses
Owner, Videographer & Photographer
Horizon Visual Media
Dave Perlman has his own mission statement.
"I'm a visual content creator. I help individuals, businesses, and organizations create content to share with their audiences.
Perlman has been a part of the LA region for many years providing various types of clients with professional and artistic imagery. Many of these images have been shared with the public through a variety of videos, promoted by the organizations that represent and strive to improve the public image of the Lewiston Auburn area.
Perlman constantly aims to enhance his production value for both his own interest and for the benefit of his clients. He continuously educates himself on techniques, keeps up with growing creative trends and reinvests in camera equipment.
His work has taken him to great heights as he takes to the skies to capture aerial images for many different projects. His careful skill as a drone pilot has allowed him to create a library of beautiful aerial imagery of Lewiston Auburn.
When he's not holding a camera, Perlman is most likely holding a guitar or microphone. As an accomplished musician, he frequently plays to audiences throughout Maine delighting and contributing to an entertaining nightlife.
"Between public city events and events sponsored by L-A Harley Davidson, I perform music at many fundraisers throughout the Twin Cities. In addition to raising money for good causes, it's a good feeling to put on a show that brings people in our community together. I do several of these a year and have for the last 5 or 6 years."