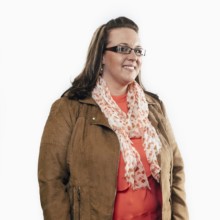 Heidi Sawyer
2017 40 Under 40 Honoree
Local Government & Civic Leaders
Manager, Market Engagement
Manpower Maine
It is the "spirit" in the LA Metro area that continues to inspire Heidi Sawyer today.
"I know it sounds cheeky, but the people and businesses in this community have a 'get it done, never say die attitude,' said the manager of Market Engagement for Manpower Maine. "The people in this community are committed to making a difference, to making a future that is bright for anyone willing to roll up their sleeves."
In her day job, Sawyer engages both employers and job seekers throughout Maine using a variety of mediums. Social media is a key element of that work and she's extended its use to her community involvement.
"I started a Facebook group called Lewiston Rocks about two years ago. It is a community group designed to help people in our city get to know each other and for community members to talk about local issues and build relationships with each other," said Sawyer, who asks participants to be kind in their postings on the page. "In the world of social media it is easy to throw out opinions or comments without any concern about who you might be hurting. I wanted a space that brought people together to discuss important topics in a manner that will help people with varying opinions."
Sawyer recently started a video series on Facebook called #LewistonLive where she interviews a Lewiston resident about life in the area while broadcasting it on a live video feed.