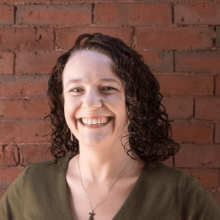 Jaime-Lyn Allie
2018 40 Under 40 Honoree
Volunteers
Office Administrator
DeBlois Electric, Inc
In Jaime-Lyn Allie' s capacity as the office administrator for DeBlois Electric, she contributes to the day to day operations and fosters relationships among management and the employees as well as with customers and the general public. She has worked in the accounting and construction industry for nearly 20 years, developing skills in social media and marketing, project management, and event planning.
Jaime-Lyn moved to the LA area from Southern Maine at the beginning of high school and was immediately taken with the sense of inclusiveness and community. She made the decision to stay based on the overall feeling of togetherness and the wide variety of interesting organizations and fun places to recreate.
She notes, "I enjoy the wide variety of venues that cater to the performing arts. From stand-up comedy to live theater, to dance, the LA area offers everything that larger cities like Portland or Bangor have, but on a more intimate scale that guarantees you'll always run into a friend. She also credits the community for always trying to do better. "Whether we're working to revitalize downtown or taking the time to embrace those who we perceive as different from ourselves, LA is moving ever forward on a path of progressiveness and inclusivity."
Jaimie-Lyn says, "The project I'm most passionate about is volunteering for 'Sasha Lee's Annual Lingerie Fashion Show.' For the past four years, we have empowered models, both male and female, with an opportunity to feel comfortable in their own skin." She can be spotted in local dance classes, acting with Thread Theater and at the comedy nights at House of Bacon as well as the burlesque shows at LAVA Fondue Restaurant & Show Lounge.