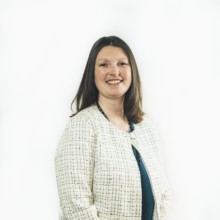 Jennifer M. Hogan
2017 40 Under 40 Honoree
Local Government & Civic Leaders
President/CEO
Community Credit Union
Jennifer Hogan has certainly worked her way up the career ladder.
"I was working at the local radio station when I was approached at a Chamber breakfast about applying for the marketing position at Community Credit Union. A few weeks later, I started working for the credit union as the marketing and training coordinator," said Hogan, whose family settled in Lisbon Falls while her father was stationed in Brunswick during his Navy career.
"I had a passion for this work and knew I wanted to make a career out of it. Throughout my 10 years, I have taken on a variety of functions and positions within the credit union including Marketing and Business Director, Executive Vice President and now President/CEO," said Hogan.
Hogan credits radio station owner, Dick Gleason, for giving her advice early in her career.
"Dick said to me 'We are all about being local. If you're going to work for me then you're going to be involved in the community. You can do whatever you want but you need to commit to something,'" remembers Hogan. "I committed and I never looked back."
Some 15 years later, Hogan heeds that advice like it was said to her yesterday.
"Now those words are echoed from my mouth to managers and employees within the credit union. I love this community and have committed myself to working in Lewiston, living in Turner and playing throughout all of the LA Metro area."