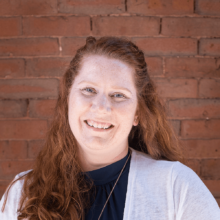 Kaitlin Gallagher
2018 40 Under 40 Honoree
Economic Development
Owner + Photographer
KaitLavin Photography
PhotoBooth Owner
GingerSnap Rental
Kaitlin Gallagher is the Owner and Photographer of KaitLavin Photography where she specializes in child and family portraits. She also provides event photography, executive portraits, dance competition photography, photo restoration and design projects. Additionally, through GingerSnap Rentals, she offers fun and unique ways to incorporate a Photo Booth into many different events from weddings, parties, galas and fundraisers.
Kaitlin says, "I have a BA in Sociology with a concentration in Crime Law & Deviance, and I thought I wanted to be an FBI Profiler." Once she realized her personality would likely lead to either teaching or research, she rethought her career path. Inspiration came, she notes, "When I spotted a sign at Sears Portrait Studio that said 'Now Hiring'. I walked in and was hired on the spot." Advancing in her profession, Kaitlin says the "kick in the pants to go out on my own," came when Sears closed all of its portrait studios.
Originally from Belfast, an old boyfriend led her to Auburn where she says she "loves living." Kaitlin takes advantage of all four seasons and in the warm weather you will find her golfing at Apple Valley, where she is in two leagues and also drives the beverage cart or works in the pro shop and teaches at the Junior Golf Camp. She also coaches Junior Varsity High School Golf for Gardiner High School. When the snow flies, find her skiing or tending bar at Lost Valley or bowling in a league at Sparetime.
Kaitlin volunteers by doing and has jumped into a frozen lake, twice, for the Barbara Bush Children's Hospital and the Maine Children's Cancer Program. She has also donated her photography expertise to several community programs.