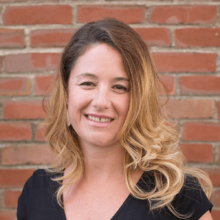 Pam Ashby
2018 40 Under 40 Honoree
Emerging Leaders
Editor in Chief
LA Metro Magazine
As Editor in Chief at LA Metro Magazine, Pam Ashby says her job, "Is a little bit (or a lot) of everything," which includes story content, sales, layout, and coordinating with the editor, writers and photographers. Pam started as a graphic designer, and she worked in a variety of capacities, including digital print shops in Portland, creating marketing materials for beverage distributors, and as a freelancer with various businesses.
Originally from the Lewiston Auburn community, Pam notes that, "What is great about our area is the diversity. You can hike, swim, ski, race, eat, drink, listen to talented musicians, view art, go to the theater, and more, all within a short distance from your home. But what I enjoy most are the number of scenic walks where I can take my dog."
She is part of the Uncle Andy's DIgest Make A Wish team and is a huge supporter of that cause, saying, "Having seen first hand what they do and how it benefits the families, I have grown very passionate about raising money for those children." She adds, "The Heart of Hope is another non-profit that holds a special place in my heart.".
Her concern for the area are the lingering negative impressions. Pam says, "We are beginning to overcome that issue with the establishment of new and thriving businesses, adding economic value and fostering positive experience for both citizens and visitors to the area. I believe this is the best path to changing long-held, negative views."
You might see Pam running or golfing, listening to live music or at Fish Bones, Mac's Grill, or She Doesn't Like Guthries.