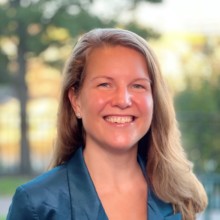 Leigh Weisenburger Albert
2021 Finest Under 40 Awardee
Education
Vice President for Enrollment and Dean of Admission and Financial Aid
Bates College
As vice president for enrollment and dean of admission and financial aid at Bates College since 2012, Leigh Weisenburger Albert has spearheaded a program where applications to Bates have surged to historic levels, attracting students from across the U.S. and around the world.
Leigh approaches her work with equity at the center and an abiding commitment to access, affordability, and student success. A frequent speaker and panelist, Leigh is a nationally recognized voice in the field of college admissions.
"Some of my favorite parts of my career have been traveling the globe meeting students, families, high school counselors, teachers, and college/university colleagues in their communities, on their campuses, and in their schools."
In reflecting on the LA community, she believes that equity and inclusion along with climate change are among the biggest challenges.
"In an effort to address these, I hope we can continue to make strides in community-building through dialogue, diverse learning opportunities, shared community engagement endeavors, and developing all programming through an access, equity, and inclusion lens.
As for climate change, I think it's critical that we maintain and grow our green spaces throughout the cities so that all generations can enjoy them and remain committed to their preservation and well-being."
Beyond the office, Leigh is also deeply involved in the community, serving as treasurer of the board of directors of the YWCA of Central Maine and on the NICU Family Advisory Council at the Barbara Bush Children's Hospital at Maine Medical Center.