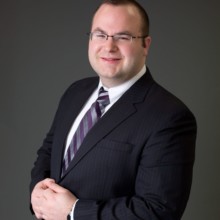 Matthew D. Shaw
2016 40 Under 40 Honoree
Volunteers
Business Development Officer
Community Credit Union
Guest Services Agent | Manager On Duty
Hilton Garden Inn Auburn Riverwatch
As the Business Development Officer for Community Credit Union, Matt's job is to improve the Credit Union's competitive position through business development functions and working closely with local dealers and realtors to help secure lending for various projects in L/A. He is also closely involved with L/A area schools, facilitating financial literacy courses for students of all ages, and serves as a representative of CCU at local fundraisers and community events.
Born and raised in Lewiston, Matt enrolled in accounting and technology courses in high school and worked for a local bank while attending college at St. Joseph's. Envisioning a future for himself helping others and giving back to his community, he built a strong foundation in marketing and business ethics and eventually earned his bachelor's degree in Business Administration. Prior to joining CCU, Matt worked with United Way of Androscoggin County as Director of Campaign and Marketing. When he was offered the job at CCU, Matt saw an ideal opportunity to combine his commitment to and admiration for our community with his passion for building relationships. He feels fortunate to live and work in L/A with its rich history and beautiful architecture.
Beyond his career with CCU, Matt works for the Hilton Garden Inn in Auburn as a guest services agent, banquet bartender and manager on duty. When he's not at work, he loves to be out and about in the community. Whether he's attending Business After Hours around town, tasting new foods at locally owned restaurants, volunteering for events or participating in local fundraising efforts, Matt finds it "engaging and rewarding" to be a part of building L/A by helping his fellow citizens whenever possible. He is an active presence in both the LA Metropolitan Chamber of Commerce and Uplift LA and loves that so many local businesses are members of the Chamber and consistently contribute to efforts to draw more people to the L/A area to live, work and play.
Some of Matt's favorite places to eat in L/A include Marche, Jasmine Café, Sea40 and Davinci's. Outside his community work, he has an interest in taking scenic photographs, traveling and sitting by the ocean, and spending time on Sebago Lake with family and friends. In the future, he sees himself continuing to build the L/A community as well as the surrounding area. He hopes to be able to make lasting positive impacts and maintains an attitude that "when you help one, you help everyone."