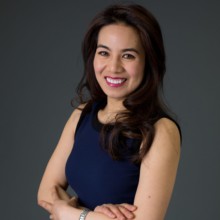 Rosemarie G. Sheline, DDS
2016 40 Under 40 Honoree
Health & Wellness
Dentist
Maple Way Dental Care formerly Center Street Dental
Commonly known in the L/A community as "Dr. Rose," Dr. Rosemarie Sheline, DDS, is a dentist and owner of Center Street Dental in Auburn. A native of the Philippines, Dr. Rose graduated from the University of Baguio in 2001. When she met her husband, Carl, she decided to immigrate and continue pursuing her dental career in the United States. After passing her dental exams, she attended Loma Linda University in California and graduated in 2005. Her current services include treating cavities and oral infections as well as providing cosmetic and family services with implants, veneers, crowns and routine wellness checkups. She is passionate about helping her patients feel good about themselves so they can start smiling and enjoying their lives again.
Dr. Rose and her husband wanted to live in Maine because of its natural beauty and sense of community. They were happy to find a practice in Auburn and a place to live in Lewiston that they enjoy. Her favorite things about living in L/A are all the great local people and the availability of a wide variety of activities. She truly appreciates the opportunity to work with her wonderful staff that plays a key role in her efforts to improve the lives of her patients. Dr. Rose feels that by providing great oral health care for our community, she can contribute to the overall wellbeing and happiness of its people.
When she isn't working at Center Street Dental, Dr. Rose can be found spending time with her husband and their two beautiful children, John and Danika. A big music fan, she is currently taking piano lessons as well as voice lessons to improve upon her skills. She also loves to exercise, with a particular passion for hiking. She supports the L/A community through her business, providing numerous dental health bags to local elementary schools and at various community events. Center Street Dental also supports several events and nonprofits in the L/A area through sponsorships and participation in fundraisers. Through its own wellness program, Center Street Dental staff often take part in local 5K races and do their best to promote overall health and wellness in L/A. Dr. Rose is particularly interested in the efforts of The Auburn PAL Center, The Dempsey Center and Tree Street Youth, all local organizations that provide valuable services and resources to those who need support and compassion.
Looking ahead, Dr. Rose plans to continue her life and her practice in L/A and has no doubt that the place she calls "home" will continue to grow and thrive in the future.