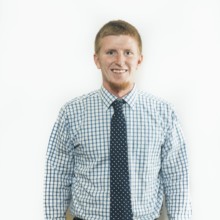 Matthew M. Poulin
2017 40 Under 40 Honoree
Volunteers
Consumer Retail Lender
Mechanics Savings Bank
Matthew M. Poulin is a banking lender who likes to lend a helping hand in his community.
"Some of my favorite parts of my career consist of establishing and maintaining relationships with individual and business customers, while ensuring a great customer experience along with working with clients to identify their financial goals and to find ways of reaching those goals," said Poulin.
As for the community work, Poulin is equally committed.
"I am very passionate about any cause in relation to cancer research because I have had family members with cancer and it is very painful to watch. I also have the utmost passion for those who are dedicating their time to help those with cancer," said Poulin, who resides in Lewiston.
"I think one of the biggest challenges we are faced with in the community is the separation. I think we are divided as a community and I strongly feel that it plays a role economically and socially. I believe we need to continue to do a better job of uniting the community with events and opportunities to bring us all together. I feel we need to spend a lot more time bringing together the diversities of our community because once we have gained faith and trust in our community, it will all come together," said the banker. "Numbers are numbers and budgets are budgets, but the great people of our community help us grow and we will be much stronger together rather than separated."