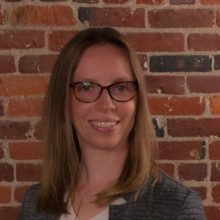 Misty Parker
2020 40 Under 40 Honoree
Economic Development
Economic Development Manager
City of Lewiston
When working as a city planner in the midcoast region of Maine, Misty Parker became intrigued with the work being done in Lewiston Auburn.
"I had the opportunity to plan a statewide conference for the Maine Association of Planners in Lewiston. The excitement, passion, and collaboration among the business community and local leaders was quickly seen. I loved the work the city was doing to implement the Riverfront Island Master Plan and their commitment to redeveloping the downtown. Lewiston shined as a city committed to creating the future they wanted to see, and I wanted to be a part of this exciting work."
She landed in LA as the economic development manager for Lewiston where she has been lauded for her work with the Healthy Neighborhoods Coalition and Downtown Revitalization as well as other efforts that have brought grant money and betterment to the city.
"In my role with the city, I am focused on downtown redevelopment, strengthening the community through creative programs and services, developing innovative workforce development programs, and supporting business owners to establish and expand in the city. Over the past two years I have been managing the city's Choice Neighborhood planning grant from HUD, creating a resident led transformation plan for Lewiston's most blighted neighborhood, the Tree Streets Neighborhood."
Away from her work, Parker and her husband have a small hobby farm where they raise chickens, pigs, rabbits, and grow lots of vegetables.
When asked what she is most passionate about, Misty quickly responds, "Local food, farming, river restoration, and community development."