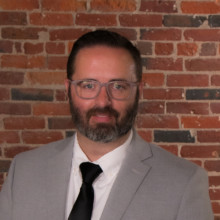 RJ Gagnon
2020 40 Under 40 Honoree
Health & Wellness
Chief Financial Officer
Androscoggin Home Healthcare + Hospice
RJ Gagnon is a numbers kind of person.
As a financial leader for Androscoggin Home Healthcare + Hospice, his primary occupation is providing financial stability to the organization through analyzing financial metrics while building strong workflows to continue Androscoggin's strong financial position.
"My passion for numbers and math really began to blossom in my high school accounting courses, driving my decision to major in accounting at Thomas College, and later begin a career in public accounting. I first worked with a public accounting firm, which exposed me to a variety of industries, allowing me to further explore the opportunities of both accounting and finance, the public and private sectors, and employers of varying sizes."
When asked why he settled in LA, his accountant thinking kicks in and he provides a concise list.
"My wife, Kari, was born and raised in Lewiston. Shortly after college I made the decision to move to the Lewiston-Auburn area to be with her. There were several driving factors to plant roots in the Lewiston-Auburn area:
The support system Kari's immediate and extended family provide us and our growing family.
Investing in a community that helped raise my wife, she's a byproduct of Lewiston Public Schools and bleeds blue.
There are so many opportunities for professional growth and engagement.
Fun and exciting opportunities for our young family to get out and play, inside and outside.
While there is so much more to the Lewiston-Auburn area, these were the driving forces for me."