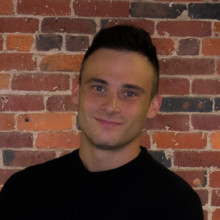 Nate Libby
2020 40 Under 40 Honoree
Creative Geniuses
Photographer
Forty-Four Photography
A nominator captured the essence of Nate Libby.
"Nate is an amazing photographer and artist. He has a unique eye that captures the picture in its own uniqueness and is not hesitant to be creative and think outside of the box when it comes to his work. Nate's work is also on display and being featured at our local Starbucks here in Auburn.
In addition to being an amazing photographer and artist, he has a way that makes the subject(s) feel calm, special and welcoming."
"I like to call myself a painter with a camera. My work involves primarily portrait photography, but I also photograph animals, food and various other commercial objects. I travel to different locations and events to take pictures of a variety of subjects and happenings. I use a combination of studio technology and editing software to manipulate images to capture my subjects," said Libby.
Libby moved to Lewiston Auburn to work after completing college.
"I had no idea that I would find such an enjoyable and unique community in which to start my life. It had enough creative energy to kickstart my photography career, and I am always finding something new and exciting in the area. I enjoy the diversity that the community offers for my work."
When it comes to dining out, Libby believes the area has a wide variety to choose from.
"For a quick and tasty bite to eat, I enjoy Boba or Mother India. For a night on the town, I go to Gritty's. For a quieter evening, I like Fishbones and Da Vinci's."