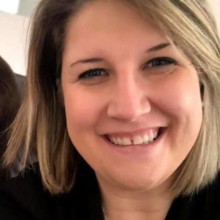 Sharon Goes
2022 Nominee
Best in FINANCIAL SERVICES
Branch Manager
Androscoggin Bank
Sharon, in addition to being an amazing human being and fantastic mother of two, manages two branches for Androscoggin Bank in Lewiston. President of her Son's school PTA, Volunteer teacher for the Junior Achievement financial literacy courses, and Chair member for United Way. She cares a great deal for the people around her at the Bank and in her Community. I have never met anyone with a bigger heart and a stronger desire to assist her colleagues than Sharon.
-M. Bilodeau
Sharon joined Androscoggin Bank in 2020 as a Retail Manager and Assistant Vice President and currently manages the Sabattus Street and Main Office branches.
Sharon does great work in our local Lewiston/Auburn Community! Sharon is a longtime volunteer for the United Way and served as Campaign Chair this year, as well as a Board Member. She is also President of the PTA at her son's school and is an officer of Network L/A, a local networking group that collaborates with local professionals in our community to provide referrals and help businesses grow. She has also been a long-time Junior Achievement volunteer and frequently teaches the JA financial literacy courses to students. She also participated in a homeownership-counseling course where she helped a new Mainer figure out a budget and a plan to be able to buy a home. Since joining Androscoggin Bank, she helped with efforts for the Bicentennial Parade, participated in the UW Day of Caring, and volunteered with RiverFest.
She is the definition of SUPERWOMAN! She makes everyone around her feel welcome and valued, and she goes above and beyond every day to make a positive impact on her clients, colleagues, and community. Truly one of a kind!
-C. Smith