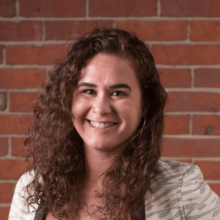 Allie Smith
2018 40 Under 40 Honoree
Building LA
Director of Education
Healthy Homeworks
Education Specialist
New Beginnings
As Director of Education at Healthy Homeworks, Allie Smith designed the Build-a-Bed program that works with folks across all ages who do not have a bed. The program guides and teaches them how to make their own bed frames; which they can keep for free alongside a mattress and mattress encasement. As an Education Specialist at New Beginnings, Allie works with at-risk youth that are out of school in their Educational Support Program.
For Healthy Homeworks she also handles marketing, communications and grant-writing. Allie discovered her love of small-group teaching through peer tutoring in college and after graduation moved to Thailand and taught kindergarten and designed English as a Second Language educational programming for an organization that supported women and girl survivors of human trafficking. She also spent some time in DC working in the creative and tech industries. In her words, "The most rewarding part of my career to date has been bringing what I've learned across these experiences to support my mother as she launched Healthy Homeworks. I feel so grateful to have found a position where I can support my family, do what I love, and contribute meaningfully of my own experience to grow an organization that is doing good in the LA community."
Allie grew up in Maine, and had no intention of permanently making Maine her home. But, she says, "Lewiston caught me off guard. I fell in love with its diversity, youth, energy, and the passion of its residents to make their city better. I felt like Lewiston was a place where even with my few resources I could make an impact, where I could know my neighbors, be near my family, and do work that I love." She hopes to be part of the continued growth of Lewiston and collaborate with others to create new avenues for recreation, local business, and access to affordable housing.
Look for Allie at Pure Thai, The Ark, Bear Bones Beer and Forage Market.