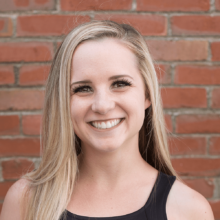 Cat Haley
2018 40 Under 40 Honoree
Entrepreneurs
Owner
Cat Haley Cheerleading
As owner of Cat Haley Cheerleading, Cat works with competitive cheer athletes at the recreation, school, all-star and collegiate levels. She teaches tumbling classes through Element Allstars, and also works with several athletes in one-on-one private lesson sessions. Her work takes her from Maine to Australia to perform choreography and clinics.
Cat was a competitive cheerleader for 14 years. Following college in the south and then working at one of the most renowned programs in the world, she returned home with the goal of changing cheerleading in the State of Maine. She credits her entrepreneurial business confidence to experience with the Stingray Allstars of Marietta, Georgia and winning the 2013 World Championships.
Cat says, "I've returned home to start my business here because I owe so much of my growth to this area that provided both substantial social and work opportunity." Her grandfather ran Blackie's Farm Fresh Produce for decades before his passing this past winter. Cat adds, "I was able to witness the positive impact my grandfather had on the community and I am in high hopes of mimicking that."
Cat's vision for the area's future is strong, stating, "Diversity and population growth are new challenges over the past decade. We can overcome these challenges by keeping the values alive that have made LA a place where families desire to grow. Embracing and accepting differences in culture, age, sexual orientation, religious beliefs and beyond are what's necessary for keeping LA the place where everyone feels at home."
Not surprising, Cat's favorite restaurants are locally-owned: Sam's Italian, Pat's Pizza, Gritty's.and Taber's.