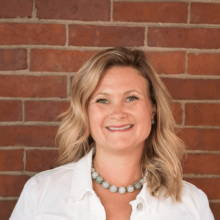 Jennie Malloy
2018 40 Under 40 Honoree
Building LA
Principal + Director of Story
Warp + Weft formerly The Brand Collective
As co-founder and co-owner of The Brand Collective, Jennie Malloy works with fellow co-owner, Aimee Goodwin and a team to develop strategic branding, marketing, and advertising programs for businesses and nonprofits of all sizes throughout Maine, New England and the US. Jennie has a particular focus on business development, management of the writing side of the shop, and brand messaging/positioning.
A career opportunity for her husband brought Jennie to the LA area, which she says was an "incredible opportunity for me professionally." Jenny credits her degree in French for helping her land her first marketing job at The French Cultural Center in Boston where she handled a variety of assignments and spoke French every day. She continues to be passionate about the arts and notes, "I see the arts as a vehicle to build community and vitality and an invitation to experience our world in different ways. I also see the arts as a critical economic engine."
Jenny serves as president of the board of The Public Theatre, the secretary of Fairview Elementary School's PTO and assists with communications for the Taylor Pond Yacht Club. Also passionate about education, she supports organizations like Tree Street Youth and Promise Early Education Center that, she says, "Truly stand up for education, and in my opinion are critically important for society." Her hope for LA is, "To see the fruits of the collective labor of so many in Auburn and Lewiston come to fruition through completely revitalized downtowns and outdoor spaces, community and organizational collaborations, and continued economic development."
Catch her out at Val's Drive In, Mother India, Fishbones, DaVinci's, 84 Court, and Guthries.