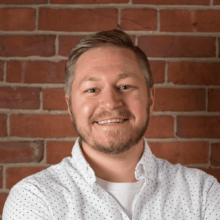 Dr. Cory St. Denis
2018 40 Under 40 Honoree
Health & Wellness
Traveling Doctor of Chiropractic
Dr. Cory House Calls, LLC
Dr. Cory St. Denis travels the state of Maine to provide his brain-based wellness and chiropractic services to people in their homes and offices through his company, Dr. Cory House Calls, LLC. He specializes in working with school-aged children, busy professionals, and families who want care without leaving the comfort of home.
Cory's journey to becoming a neurologically based chiropractor has been one of personal transformation. Chiropractic care and lifestyle changes proved to him that anyone can create a healthier brain with the right support, and watching and helping his patients do this every day pushed him to succeed by spending more time with patients for more specialized care to achieve better results, faster.
Cory lives in Jay but takes full advantage of LA's networking groups and was immediately drawn to the community. He says, "Being someone 'from away' who has transplanted to this amazing place, my perspective is probably different than most. I can see the struggles. But, from my understanding, every town or city in almost the entire state of Maine has had some good times and some bad times. There are SO many good things happening in this area and that is something to be proud of."
Cory also has a digital media company and has donated services to help start a nonprofit called Duffles of Love, which provides duffle bags full of necessities for children in foster care. You can also find Cory teaching skiing at Lost Valley, rafting with his wife, and on the search for great salads at Tripp's, Axis, Forage, Guthrie's, and Mac's.