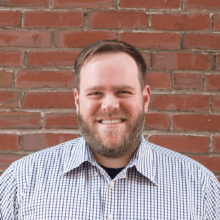 Tom Deschenes
2018 40 Under 40 Honoree
Creative Geniuses
Creator
Quest for the Antidote(Upper Deck)
Regional Director of Strategic Partnerships
Purdue University Global
Tom Deschenes works for Upper Deck for the game, Quest for the Antidote; is a Shakespeare scholar; and by day Regional Director of Strategic Partnerships for Purdue University Global. He says, "When I'm working on behalf of Upper Deck, I am the creator, designer, and developer of everything related to Quest for the Antidote, the board game/intellectual property that was launched globally in the summer of 2017." He also serves as brand ambassador for Upper Deck, travelling the world to attend pop-culture/gaming conventions where he gives speeches, signs autographs, and demos the game with fans and expands the IP into different forms of media.
He says, "In my spare time, I am also self-employed as an author and Shakespeare scholar, and I have my first books being released later this year through Amazon." Tom credits the ability to pursue his creative endeavors to the flexibility of Purdue University Global.
Born and raised in Lewiston, Tom returned to work at then Kaplan University after four years as an English teacher in Massachusetts. Tom says, "Lewiston will always be my hometown. The people and community are the best part of the city. It was a wonderful place to be raised, and it is a great place to call home." He credits, "The number of artisans and business owners and young professionals that are investing in Lewiston and Auburn and helping our cities grow."
His causes include Androscoggin Home Healthcare and Hospice, Strive, The Barbara Bush Children's Hospital, Extra Life, Camp Sunshine, Habitat for Humanity and the Dempsey Challenge, Tri for a Cure, and the March of Dimes.