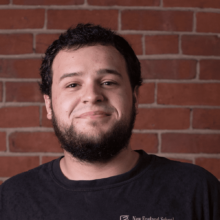 Isaiah Washington
2018 40 Under 40 Honoree
Entrepreneurs
Owner, Blacksmith & Knife Maker
Zay Knives
Blacksmith and knife maker Isaiah Washington owns Zay Knives. Isaiah states, "Craftsmanship and constant improvement drive me to try and make the sharpest and most beautiful knives I can create." His interest in making knives started when he saw a YouTube series on swordsmiths in Maryland and said he was, "Compelled to try and blacksmith." and he has been ever since. He discovered the New England School of Metalwork in Auburn and applied to their "'Hammer In'" annual blacksmith's convention to compete to make a knife in under 2 hours. In addition to coming in second place, he was asked to intern at the school.
Working out of his Auburn garage, he was contacted by the Sun Journal for an article that led to sales but also to the discovery that his residence was not zoned for business so he ceased operations. Again noticed by the newspaper, his situation was taken up on social media with strong support from the arts community across Maine. The owner of Benoit's Bakery offered him his current studio where he continues to make knives in the same way people have been making knives for thousands of years, by heating steel and hammering it to shape while teaching himself how to market and turn his passion of blacksmithing into a career.
Having lived in the LA area his whole life, Isaiah is concerned that the cities, once booming with industry have declined. He notes, "Many jobs that can be found are food service and customer service at chain stores. But we have so much potential in the old mills, they just need to be used again."
When he is not keeping the craft of the blacksmith alive, Isaiah enjoys computer games with friends and seeks good pizza at Pizza Market and Pats Pizza.