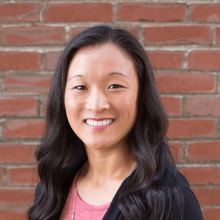 Amy Jose
2018 40 Under 40 Honoree
Emerging Leaders
Integrated Marketing Specialist
Spectrum Healthcare Partners
As an Integrated Marketing Specialist at Spectrum Healthcare Partners, Amy Jose is part of a marketing team of three that is responsible for elevating Spectrum's brand and strategically positioning the organization as a premiere healthcare provider. A 2016 University of Southern Maine graduate, Amy's senior internship at the OA Sports Center led to her job, which she describes as providing the opportunity to understand the rapidly changing healthcare landscape, learning to adapt, and working collaboratively with national colleagues.
Amy grew up in Oakland, then lived in Portland before her house search led to LA this past year. She found the perfect newly built home in Auburn. She describes the Lewiston Auburn area as having a nice balance, offering both a rural and small city feel. Amy notes, "I take pride in being a Mainer and it's really great to see the improvements that this area has made over the past several years."
Outside of her career, Amy is pursuing a Master of Science degree in Market Research Analytics. Other than that, she says, her favorite place to be is with her Australian Labradoodle, Lilly, hiking, swimming and exploring new trails, parks or beaches, year round. Amy remarks, "I love being surrounded by the silence that Maine's beautiful woods offer us." Amy encourages, "Venturing outside of your comfort zone to enjoy all that the area has to offer."
Find Amy volunteering as a Wish Granter for Make a Wish and supporting the Barbara Bush Children's Hospital, the Dempsey Center and Challenge, and several organizations that involve animals.