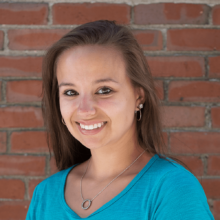 Courtney Pelletier
2018 40 Under 40 Honoree
Local Heroes
Universal Services Advocate
Veterans Inc
Courtney Pelletier got started in her career as a Universal Services Advocate at Veterans Inc. through her 2013 Bachelors of Social Work from the University of Maine, Orono. From there, she worked with adults with mental health illnesses and discovered her passion for Veteran Advocacy. As a case manager for the Supportive Services for Veteran Families Grant, Courtney provides outreach to at-risk and homeless veterans and their families. She is rewarded by building relationships with people, hearing their stories and providing support when needed.
A Lewiston native, Courtney has always had a passion for giving back to her community. She notes, "I enjoy the community presence. I take part in the Lewiston Auburn-Area Alliance of Services to the Homeless and the Maine Military Community Network. Through these committees, I am able to see first hand just how much the community cares about its' people." She has also participated in the First Bystander Intervention Instructor Training (also known as Green Dot Training). Courtney believes that the community can overcome the challenges of poverty, transportation and a lack of resources by having more available affordable housing, having better access to resources and having more options for transportation services.
Courtney likes to go on adventures with friends driving around and exploring new areas of Maine and in the summer heads to the ocean, most often in Harpswell or Popham beach. Locally she enjoys Sea 40 and Davinci's.
Courtney sees her future as an advocate. She hopes to, "Be the voice for the people who think that their voice isn't heard,' and says, "There will always be people struggling and I want to be there to help them."