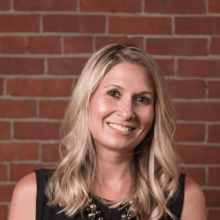 Meghan Levesque
2018 40 Under 40 Honoree
Entrepreneurs
Owner
Kiddos
Project Manager
TD Bank
Meghan Levesque is the owner of indoor playground, Kiddos and is also a project manager at TD Bank. At Kiddos, she manages the marketing and sales and the employee aspects of the business. She notes, "I collaborate with other organizations, and identify opportunities to incorporate Kiddos into our community." She balances that with her TD Bank role where she works within the Infrastructure Technology Solutions group on Network related projects.
Meghan says, "Owning Kiddos came in 2015 after giving birth to my second daughter. At that time, after having many years of project management experience, I felt that I wanted to start a project outside of TD Bank and one that would benefit the community. I began to brainstorm ways to bring an indoor playground to LA similar to other facilities that already existed here in Maine. I felt that there was a void that needed to be filled that would cater to the youngest members of our community."
One word brought her to LA: love. After she met her to-be husband, she moved to be closer to him. A true entrepreneurial couple, he owns his own business in Lewiston and she owns hers in Auburn. Meghan says she also loves, "The undeniable energy circulating in LA that people just want to create awesome things and make this area even better."
She is a member of the Board of Directors of Common Ties and supports Safe Voices. Through the TD Bank volunteer network, Meghan has also volunteered for the Special Olympics and Good Shepard Food Bank, marched in Pride L/A, and planted trees at Pettingill Park.